Every time I come back to Bogotá I confront mixed feelings about the place where I was born. The occasion for this, particular return was my grandfather's ninetieth birthday.
Beneath the immediate Bogotá I experience moment to moment, I imagine so many different Bogotás. The mountains, the built environment, the traffic and the people that comprise my visual environment conceal vast unknown territories. Each time I come, I feel more foreign than the last time. Although I maintain dual nationality, I no longer, for example, even ask myself which line to join at immigration or emigration from the gorgeous, newly refurbished El Dorado airport. Now, I always head straight to the "foreigners" line.
I feel ashamed about how little I know of Bogotá. I feel strange, too, about the extremely manicured and, in many ways, extremely closed off portion of Bogotá to which I belong: so different from my life back home in Chicago. Looking out of car windows in the slow-moving traffic, I wonder restlessly where "I" am, here, because the correlate to my Chicago self is categorically not represented within my Bogotá family home or lifestyle.
What is the lifestyle of people here who earn an income relatively equivalent to my income level in Chicago, I wonder? Which apartments are their apartments? What part of town do the artists mostly live in, if it's a particular part of town? That person on the street, catching the bus: or that person holding a grocery bag, or that one: is that me? Could that be me? Where am I? It does strike me as possible that I might not exist here; that the particular self I have become in the United States might not be possible here-- for reasons including Colombia's ongoing civil war, but also because of deeply ingrained, prevalent attitudes towards social class and towards women that are very limiting to operate within.
In some ways, accepting my foreignness to Bogotá comes as a relief. I no longer feel the need to pretend I know what I'm doing, or that I get how things work. I can learn freely now; I no longer feel ashamed to ask questions. I lived and worked here for two years after finishing my BFA, from 1998 to 2000. I decided to move to Bogotá from Pittsburgh in order to answer the question for myself of the degree to which I am Colombian or American. The question itself implied a neat binary: foreign, or national? Here, or there? I thought I would pick "A" or "B" and emerge triumphant and clear. Instead, what I experienced was an acute fragmentation of the way I understood my identity; a simultaneously augmentative and destructive process from which I was forced to cobble together a new self, an amalgam of allegiances, loves, anxieties, and unanswered questions. And so much ambivalence. "You know, Paola", I periodically find myself thinking, "at some point, you're going to need to broker some kind of peace between yourself and Colombia."
cultural outsider
On this trip as in previous ones, a combination of obligation and longing compel me to spend the lions' share of my time with family. In the back of my mind are the piece I donated to the Historical Museum of the National Police (I should document it) and the retirement fund from the job I held at that bilingual private school (I should cash it out), but somehow these tasks take a permanent back seat to the imperatives of the present.
Artistically, I am hungry to understand more. In a way I experience as actively acquisitive, I find myself wanting to claim some kind of cultural heritage. Alongside the question "where am I, here?", comes "what is mine?" I find myself looking for, and finding, resonances between my aesthetic sensibilities and the sensibilities of canonical Colombian artists. But my influences, my ideas about art, were shaped by my American training. Who am I kidding? I am looking for my reflection in a foreign mirror. Tempting as it is, I know that to imagine I am in some way reflected here is vanity, straight up.
Nontheless, on this trip as in previous ones, I spend money I don't have on expensive art books about Colombian artists, translating in classic capitalist style an acquisitive anxiety into a financial transaction (although as a transaction that represents the potential for deepening understanding, rather than a substitutive gesture of glib avoidance, perhaps my art book buy doesn't match the endless-consumption frame capitalism represents. I'm not sure. I'll have to give it some more thought.)
Casa de Moneda and Museo de Arte
The galleries at the Museo de Arte Banco del Banco de la República stand as a landmark in my memory: I will never forget the experience of that blockbuster, one-two punch of a show I saw featuring Félix Gonzáles-Torres in the upper gallery and Christian Boltanski in the lower one, back when I was living here.
My aunt Martha drove my little brother Juan José and I downtown the day before yesterday. Martha is working on a graduate degree in art history at La Universidad Javeriana, and one of her professors had curated a new installation of Colombian artwork and work held in collections during the colonial period at the Banco de la Republica's Casa de Moneda- literally, "House of the Coin". I don't know if this traditional Spanish colonial style hacienda was ever the actual national mint for Colombian money, but what it currently houses are galleries devoted to coins and to the evolution of Colombia's currency, besides this new installation.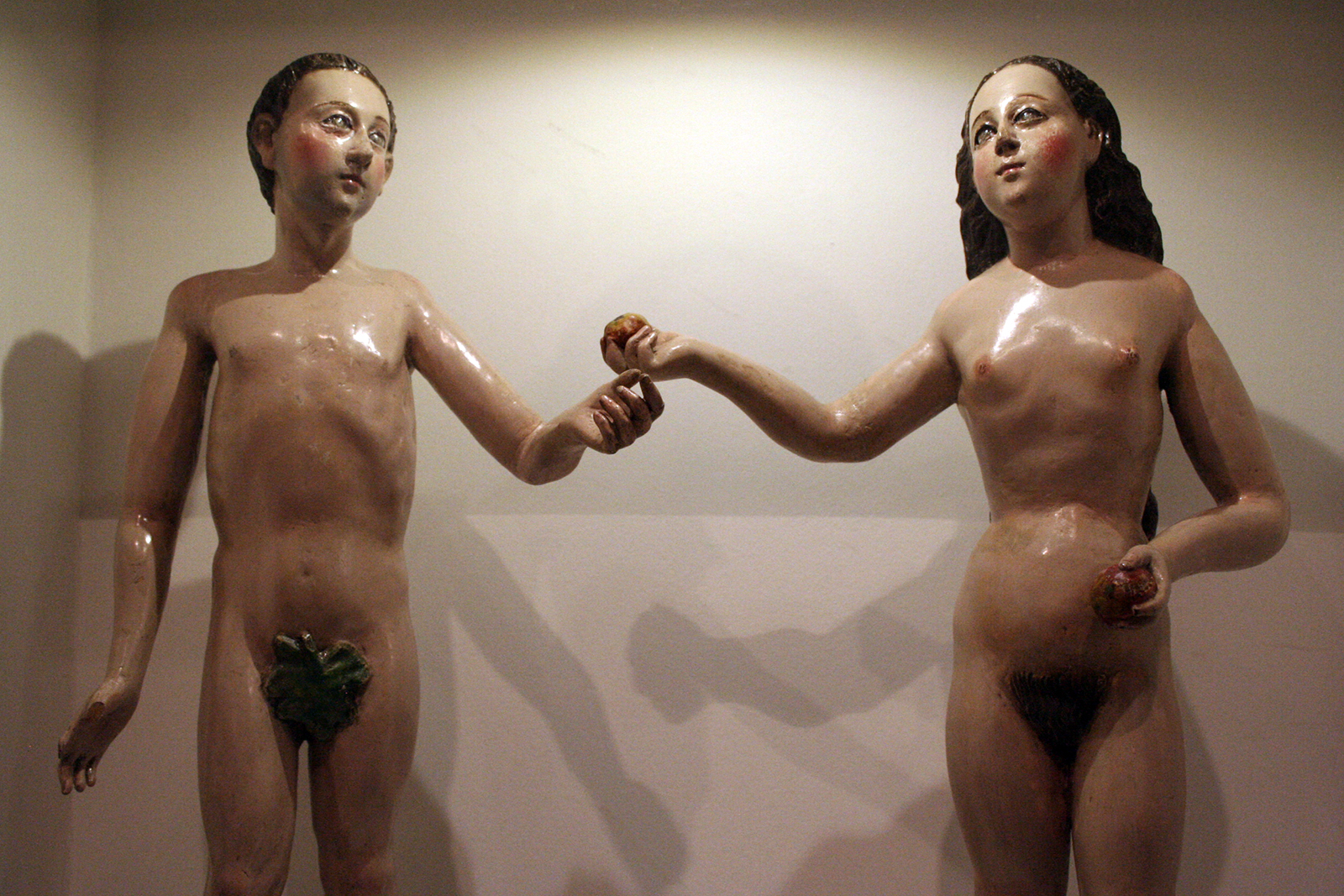 Featuring mainly religious work, the pieces in these newly installed galleries were compelling. I found myself drawn, in particular, to the sculptural pieces and to an installation of portraits of nuns at the moment of their expiration. As Martha explained, these were not exactly the painted equivalent of death masks. Rather, as a pictorial ritual that evolved into something of a convention during the colonial period, the portraits intend to represent the moment of the nun's union with the holy spirit. As they exhale their final breath, it is said to smell of flowers. Which flowers, exactly, varies from nun to nun, hence the distinct flower "crowns" each wears in her portrait.
In a gesture I understand was intended to be powerful, but which registered, for me, mainly as bizarre, the nun portraits were hung on two opposing walls in the room. Of the remaining two walls, one was the entrance and featured didactic text and the other, opposite the door, held an enormous Marina Abramovic photograph. I was so put off by this move that, reviewing my photographs, I can see that I flat out refused to document this gesture.
A performance is powerful because of the presence of the artist, the artist's body and presence activate and charge the energy of a space in a very specific way. Even a good photographic document of a performance is still a… photograph… of a performance, completely devoid of the essential element that gives it meaning. On the other hand, the paintings of the nuns feature a precise treatment that speaks of devotional obsessiveness. The paintings are, in some way, themselves a performance; the cumulative result of meticulous attention over time. I could read the gesture of their juxtaposition as signaling the ineffable; I get that what is truly significant about both the photograph and the paintings is precisely that which cannot be translated through image. But I feel it's a juxtaposition that cheapens the paintings, reducing them to their intended "message" rather than honoring their crafted, painted, performative, devotional objecthood.
From the Casa de Moneda, we made our way over to the galleries at the Museo de Arte. My little brother Juan José is a graphic design student at The University of Central Florida, and he got his socks knocked off by the William Kentridge show currently on view. How will that days' experience will live in his memory? I wonder. I can imagine it forming a landmark for him as the Boltanski and Gonzales-Torres exhibitions did for me.